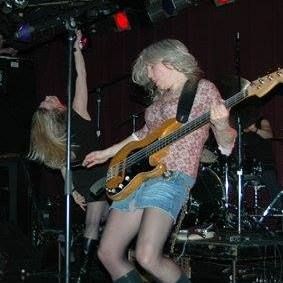 Lifelong Love of Music
Joyce Sampson is a BMI-affiliated singer-songwriter and multi-instrumentalist.  Her current song-writing focus is to write for artists in the country, county-pop, and Americana genres.  She also writes her own songs which she plans to release in future.
She has been playing music since childhood.   A child of West Virginia natives who found work in the Ohio steel industry, Joyce's earliest musical influence was her dad, Delmer "Duke" Sampson, an outstanding self-taught multi-instrumentalist country and western musician who played guitar and sang on West Virginia radio in the 1950s and 1960s.
Joyce begain playing guitar at the age of 4, but switched to piano two later.  While serving in the US Air Force, she started playing guitar again, and after her service time was up, she formed a two-guitar rock band, but switched to bass when they coulnd't find a suitable bass player.  Bass then became her main instrument. 
Joyce can sing lead vocals over bass lines that are often counter to  the melody lines. 
Her recording and performance career include writing, playing bass, and backing vocals in numerous original bands, one of which received notice in Billboard Magazine, and another which was covered in  Grits, a now-defunct magazine covering original southern rock bands. 
She has toured extensively in the United States and Europe.  One of the most exciting and rewarding live performance experiences was being a member of a band that toured for the Armed Forces Entertainment Group.  In that band, she played all over the world for members of the US military and allied forces.  She has also had the fortune and honor to play with some of her rock n roll heroes, including Steven Tyler, Barry Goudreau (one of the original guitar players for Boston), and Paul Riddle (original drummer for the Marshall Tucker Band).